Mill Girl (Original Etchings: Literature)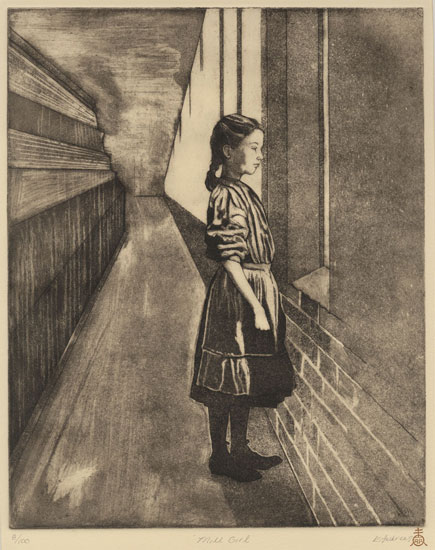 Mill Girl (see story below)
Image Size 11 " x 13 "
Matted Size 17 " x 20 "
Edition Size 100
Cream Paper
$175
To Order
P: (585) 278-8160
E: ElizabethAndrewsStudio@gmail.com
While researching the 'Mill Girls' of New England, I serendipitously discovered one of their fiercest advocates, Lewis Hine. Mr. Hine photo-documented child labor, immigrants and men laborers in the beginning of the Twentieth century. Upon further exploration, I found the archives of his historic work bequeathed to the George Eastman Museum in Rochester, NY. I had recently moved to Rochester and interpreted this discovery as the further encouragement I needed to create an image that would, again, bring these children into the sunshine. The photocopy that I worked from, of a little unnamed girl, was able to convey emotions that I too was familiar with, albeit my own story was never so harsh. I named her 'Rose' because of her delicate features and the very uncomfortable hot, humid conditions she was working in, which turned out to be the right environment to grow flowers indoors. And these young women did, on the window sills of the factories; to bring color and life into the soulless factories. I imagined Rose and I separated only by a few generations of relatives and some geography. My passion for quilting and textiles guided my first visit to Lowell, Massachusetts. Once there, the museums, refurbished mills and row housing in this turn-of-the-century mill town shared an intimate, darker insight into the lives of the textile workers. Newsletters produced by these 'enlightened' Mill owners exaggerated the social, educational and financial benefits of working in these communities. Young women and girls were encouraged to leave their rural homes and the ones already working found meager solace in the enrichments offered. Like the journalists of today disseminating stories and information about the lives of young factory workers in China, Lewis Hine's photographs alerted our consciousness to events happening outside our small spheres. The horror stories of children laboring in the beginning of the Twentieth century, United States were made visual, thus real by Mr. Hine, and subsequent legislation was passed to prohibited it's practice. Worker's rights and collective bargaining were not far behind! This etching is of an 11-year-old Mill Worker from Lincolnton, North Carolina; the original photograph was taken by Lewis Hine. Lincolnton has the dubious distinction of being the site of the first Mill in North Carolina; and working conditions unfortunately mirrored the northern mills.