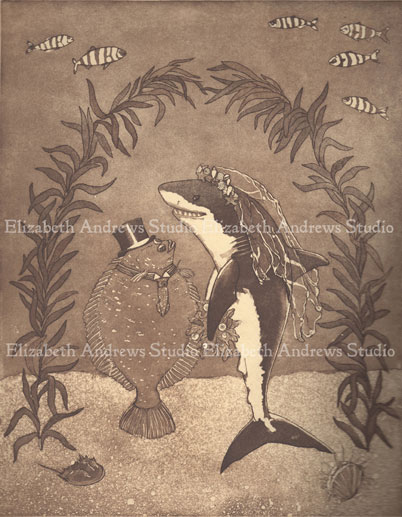 The Shark and Flounder Wedding Commission Another piece of SPAM;
Dear Ms. Andrews, I am interested in a picture of a shark and a flounder getting married.
Or, was it was from an Art Patron I had once met during an Art Festival playfully dangling an etching commission, involving Chordates wearing Victorian clothing, to see if I would bite.
"Oh sure," I wrote back. "I can get right on that, and the down payment is such to proceed," I called his cheeky bluff!
"Great!" was his quick response, "Where should I send the check?" And the Fish-Tale commission commenced with a phone call to the Flounder who was married to a women he saw as a Great White Shark. His personal history, a 25th Wedding Anniversary present, for a couple that had discovered their Animal Spirits, detailed visions of Victorian clothing, and his playful sincerity connected me to the couple I was about to illustrate. The story was delightfully charming and the ocean is my Muse, I looked forward to researching and sketching ocean life and becoming familiar with these Sea creatures. Fantasy must always retain elements of realism so the story/illustration can delight the casual skeptic! The Etchings I create on copper plates are the reverse of the finished image, so it was especially surprising to discover the difference between a flounder and a fluke. Flukes have eyes on their left side, flounders on their right side. You can see how this could become a little tricky for an Etcher. I created a mnemonic phrase to remind me of the finished image! It might come in handy for you too, someday! 'It's no Fluke that Flounders have their eyes on the Right side!' If you have never considered an etching of your loved ones, as seen from your own eyes, well here is the inspiration you might need!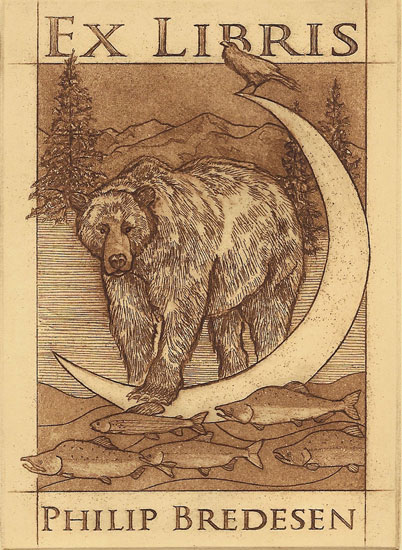 This book plate, commissioned by Philip Bredesen, the Governor of Tennessee at the time, was created in 2011. He requested a design that would feature a grizzly bear, Mr. Bredesen's totemic guide, atlantic salmon and his beloved Alaskan landscape. Through email collaboration and much persuasive prompting by Mr. Bredesen, this image was developed. I used the large waning moon to unite the sky, land, and water. The grizzly bear's ability to "step over the moon" paid homage to my Patron's great personal and business success. Then, I was left to the lonely and tedious task of committing the image to copper! Included in this commission was ownership of the copper plate, 8 hand-pulled oil prints, and the rights to unlimited, non-commercial giclees of bookplates for his vast personal library!