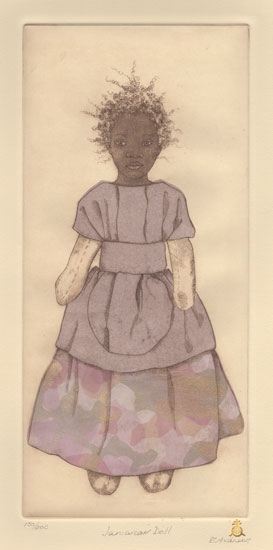 Jamaican Doll
Edition Sold Out
Image Size 5 1/2 " x 12 1/8 "
Matted Size 10 " x 17 "
Edition Size 200
Cream Paper, chine colle paper dress
$160
Prices are subject to change due to unforeseen changes in my printing methods and availability. Please email first to be sure!

To Order
P: (585) 278-8160
E: ElizabethAndrewsStudio@gmail.com
As a member of the Peace Corp stationed in Jamaica, my brother began a solar heating company as a business opportunity for the unemployed and poor. Searching in a Market for parts that he could reuse in the business he came across a vendor selling handmade Dolls. He purchased two, one for me and one for my baby daughter. They were simply made, but charming because of the colorful quilted dresses and little aprons. The eyes and mouth were roughly painted on their faces. I created a water color painting of the dolls because I loved all the colorful piece work and their miniature straw hats. I decided to put a 'real' face on my painting using a photograph of a real little girl from Jamaica. It seemed then that I had brought the doll to life by giving her a personality with an independent demeanor. I also recreated this 'Jamaican Doll' on a copper plate to utilize a printmaking technique that I had just learned; gluing fine papers to an Etching to introduce color and texture. Chine Colle is a term that is interpreted as 'Chinese glue' and is similar to Collage. Paper of less weight than the printing paper is cut out, in this case in the shape of the dress, and spread thinly with a mixture of archival glue and cellulose. After the etching plate is inked and cleaned of surface ink, the colorful paper (the dress) is positioned on the plate. A damp piece of cotton rag paper is placed over the copper plate. It is then covered with 3 layers of cotton and wool blankets, before rolling through the Etching press. The colorful paper (dress) is glued to the heavier cotton rag paper and the etching (image of the doll and her outfit) is printed on top of the colorful paper I can use a limitless supply of handmade and origami papers to create different 'dresses.' She is a true Paper Doll!