Conjoined Trees (Original Etchings: Flora and Fauna)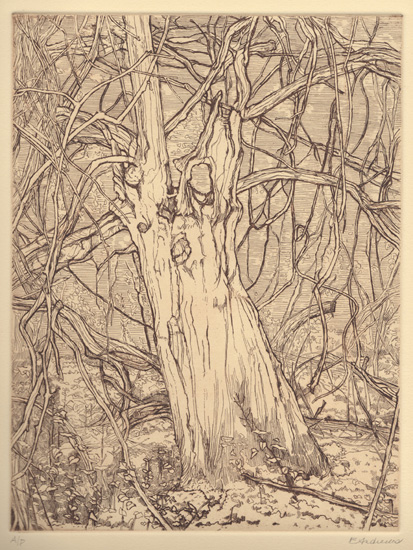 Conjoined Trees
Image Size 8 7/8 " x 11 3/4"
Matted Size 15 " x 18 "
Edition Size 125
$150
Prices are subject to change due to unforeseen changes in my printing methods and availability. Please email first to be sure!

To Order
P: (585) 278-8160
E: ElizabethAndrewsStudio@gmail.com The Conjoined Trees The geography of Western New York is disapprovingly flat for some, but the rural setting my grandparents chose to begin their Homestead offered fertile land and enough diversity and diversion for themselves and subsequent generations. My Grandfather was a Gentleman Farmer, one of his farming legacies laid quietly hidden beneath an embroidered meadow of Queen Anne's Lace, golden rod, burdock and sumac bushes. Here, the typography was either furrowed, if you were a pessimist or moulded into ridges, if you were an optimist. Walking through this meadow one would swell and sink every 8 feet or so because this was the landscape of an old vineyard. In August the air was as thinly blue as skim milk and so hot that the meadow appeared translucent, the line that separated the land from the sky was nearly seamless. Edward Andrews created earthly boundaries leaving rows of trees uncultivated for property divisions and wild life shelter. On the southern boundary, the trees border a ravine which was created by the flooding and waning of a creek that bisected the land. White tail deer created paths almost imperceptible to us; one trail cut through the back woods then followed the ravine before gingerly heading down a steep slop. At the bottom, a cluster of Hawthorne trees now grown woody and dense dropped small misshapen apples for the deer to eat before they continued to their watering hole. My Father, diligently, over time, followed these trails and hacked out paths wide enough for a stealth electric golf cart to pass. Mandrake plants grew so neatly along the well worn path that bordered the ravine one wondered if a human hand had intervened in the landscaping. These plants and their folklore so fascinated me that it was some time before I discovered the Conjoined Trees. These two trees left unpruned had matured entwined, their trunks becoming one. I did not know them when they took in carbon dioxide, leafed and flowered. Now hollowed out by disease and insects this eternal coupling kept standing while other trees in the woods died, fell and decayed around them. Supporting each other they had been standing for over a hundred years. I have always ascribed male and female features to this tree – a female hip, a single breast, a male areola, a thick muscular arm and a slender female arm. A hollowed out face was surrounded by stringy bark hair and was cropped shoulder length. And then, there was a shared heart. This tree is undeniably mythical to me, it holds some truths about life and eternal love.